---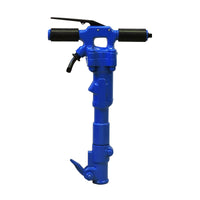 FEATURES
30 lb Class Paving Breaker.
Used for light demolition jobs, 2-3 inch concrete sidewalks, pavement, and breaking asphalt. 
Internal oiler.  
SCHEMATIC & PARTS LIST

KT-PB30 Schematic: Click Here
KT-PB30 Escquemático: En español haz clic aquí
SPECIFICATIONS
Model Name
KT-PB30 PAVEMENT BREAKER
Net Weight
34 lbs (15 kg)
Length
22.5 in (572 mm)
Bore 
1.75 in (44 mm)
Stroke 
3.375 in (86 mm)
Blows Per Minute
1550
Chuck Sizes
1 x 4 1/4 in (25 x 108 mm) Round
7/8  x 3 1/4 in (22 x 83 mm) Hex
 Air Inlet (NPT)
3/8 in (10 mm)
Air Consumption*
49 cfm (1.40 m3/m)
*estimated
Oil Tool
Use ISO 100 Grade Tool Oil in your Breakers
*For optimum performance, do not operate tool above 90 PSI (6 bar) working pressure. 
WARNING: Always disconnect the air supply before changing chisels or dismantling the tool for service or repair. For maximum safety, we advise the installation of a shut-off valve at the end of the air line. 
Do NOT exceed 100 PSI (7BAR) working pressure.  
CONDITION